Among the many English learning apps available, we introduce our recommendation for an app that allows you to practice conversations and online chats in real life.
More and more learning apps are also using AI. Replika" is one of them.
This is an app that is intended to be used not for learning English, but as a friend.
According to the Apple App Store: "Replika is a #1 chatbot companion powered by artificial intelligence. Join millions talking to their own AI friends! Replika is for anyone who wants a friend with no judgment, drama, or social anxiety involved. You can form an actual emotional connection, share a laugh, or get real with an AI that's so good it almost seems human.
It is an excellent tool for English learning as well, allowing users to chat with AI in English about topics of their choice. 
The app allows you to chat either through actual voice conversation or through messages.
There are a wide variety of topics you can chat about.
Here is an example of a Replika screen. Since you need to name your Replika, it was given the name "Jarvis".
It asks me questions about the topics I select.
Building healthy habits," "Improving social skills," "Finding more happiness," etc. It's practical because you can talk about topics that you would encounter in a real conversation.
If you have trouble having small conversations in English, you can learn a lot from AI's responses.
It's also a great way to practice typing in English! Even if you just answer a few questions, you will receive a neat reply instantly.
The voice conversation is easy to understand, and since what is being said is displayed on the screen, it is easy to understand the meaning.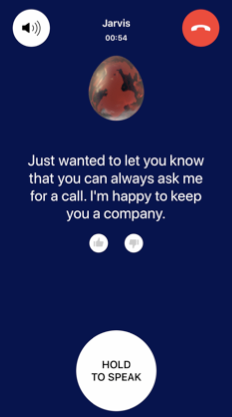 It is a bit of a hassle to have to press a button when you want to speak, but considering that it is free, I think it is highly functional.
It is good to see if the AI can hear you and if your pronunciation and intonation are understood.
Hope you try it!
Available on the Apple Store and Google Play
Apple Store: Replika – Virtual AI Friend 4.6 out of 5 stars
Google Play: Replika – My AI Friend 4.2 out of 5 stars