11 Delicious Restaurants in Tokyo for University Students on a Budget
Every student will have their go-to spot around their university campus or station. As a Sophia University student, we have both Shinjuku and Shibuya very close to us. Shinjuku and Shibuya are the go-to areas for university students as it is relatively easy to access from other stations. In this article, I will list several restaurants in Tokyo for university students.
Shinjuku 新宿
The Kabukicho area in Shinjuku is a famous entertainment and red-light district known for its nightlife, bars, restaurants, nightclubs, and various forms of adult entertainment. This is another famous drinking location, especially for students for its relatively affordable price range and lively atmosphere.
駄目な隣人 Dame Na Rinjin
A ramen shop with stores in Ningyocho and Kabukicho is famous for its ramen and rice. This ramen shop's concept is to make ramen shops more accessible to young people, women, and others who find it hard to enter some traditional ramen shops, which are often considered dirty and a little bit intimidating by some.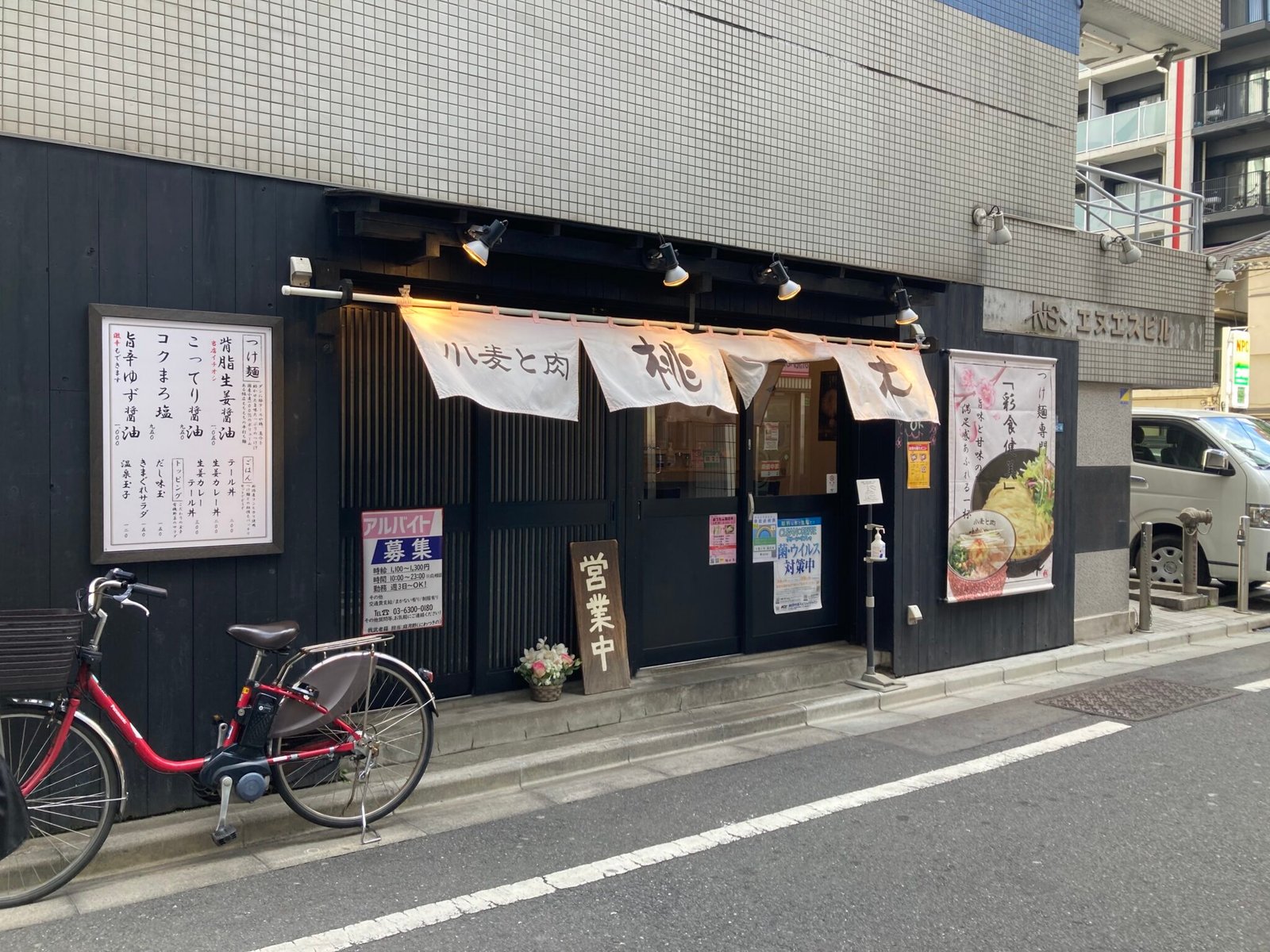 Momo no Ki, a Tsukemen shop located in Shinjuku-nichome close to Shinjuku Gyoen. They serve glossy noodles accompanied by dipping sauce. I was surprised by the size of their portions for the price. I got their most famous Tsukemen. The store is relatively small with counter seats only so it might be better for a quick bite.
A Chinese restaurant popular for their Gyozas and other Chinese dishes for affordable prices. It has a more Nomiya/Izakaya atmosphere, so I recommend it, especially for bigger groups.
Shibuya 渋谷
A vegan falafel restaurant with an international atmosphere and English-speaking staff makes you feel like you are abroad. As of now, it seems they have three stores in Tokyo located in Roppongi, Ebisu, and Shibuya Parco. All items on their menu are vegan and they have great Falaffels and Hummus dishes.
MoonSoon Cafe is a great restaurant chain to host bigger gatherings with your friends as they have spacious locations around Tokyo (Daikanyama, Omotesando, Ebisu, Odaiba, and Jiyugaoka). I have been to the Daikanyama and Odaiba MoonSoon Cafe and they both have great interiors and atmosphere to spend time with friends and family. All the items on their menu are less than 2000 yen, and their appetizers are less than 1000.
Thai restaurant five minutes from Shibuya station with a chill and spacious interior perfect for a date. Everything on their food menu is less than 2000 yen, and the portions are pretty satisfying.
Harajuku 原宿
If you are craving Mexican food and want to have a quick bite, I recommend Chiles Mexican Grill in Harajuku. The staff working there are usually Mexican and are very friendly.
Nishi Ogikubo 西荻窪
Nishi Ogikubo on the JR Chuo Line is full of cafes, restaurants, and bars with a local and hippie atmosphere. I recommend this location if you want to meet and talk to strangers. People in Nishiogi are laid back and open to having a conversation if you enter a small bar or Nomiya. Although the age range in Nishi Ogikubo tends to be higher, it is a relatively quiet place if you are looking for something more laid back.
I recommend Nishi Ogikubo as I am part of this university project called Nishiology, a web-based research project on commercial foodways in the Tokyo neighborhood of Nishi-Ogikubo led by Sociology Professor James Farrer at Sophia University. Through this project, I have been to Nishi Ogikubo quite a few times to research the food and drinking culture in this neighborhood. I interviewed Satén, a Japanese tea cafe specializing in Japanese tea drinks, butter toast, and puddings. Link to the article: A Green Tea Business Modeled on Coffee Culture
Specializes in alcohol and home-style cooking with an incredible selection for under 1000!
Ueno上野
An authentic Italian gelato shop with thick and creamy gelato.
Mihashi, an Anmitsu あんみつ cafe in Ueno with a retro and cozy vibe perfect for having a relaxing time. Anmitsu is a traditional Japanese dessert with small cubes of agar jelly, sweet azuki bean paste, small mochi (sweet rice cakes), fruit cocktail, and syrup. It is typically served in a bowl with a side of sweet black syrup called "kuromitsu" and sometimes with a scoop of vanilla ice cream.
I usually have the Shiratama and Cream Anmitsu, which is Anmitsu accompanied with vanilla ice cream for the perfect blend of Japanese and Western flavors.
老酒舗 Old Style Chinese Izakaya is a Chinese restaurant/izakaya 2 minutes from the Okachimachi Station. I had the ラム肉あげ餃子 lamb meat fried dumplings, 角煮パオ Kakuni Bao, and ビャンビャン麺 Biang Bian Noodles. All their dishes on the menu are pretty reasonable and quite filling.
Tokyo's unique and exciting food culture makes it one of the top destinations for food lovers. You will never miss an affordable and high-quality meal here in Tokyo. Exploring the city with friends or by yourself makes for a great outing and it is one of my favorite ways to spend time with friends and family.